The Future of Events, Conferences, & Meetings
Last year we all adapted, just like pollinators, to be involved, give and receive education, and connect with others.  Leaders in county and state associations had to adjust to serve their members and meet their mission.  While many groups attempted to provide on-site and in-person member meetings and state and national conferences, many were simply cancelled.  To adapt you have to accept change.  Adaptation means learning new methods.  In the case of monthly member meetings and conferences, education delivery had to change.  Event planners had to quickly learn the technology, and most importantly learn from others successes and failures.
2020 was LEAD for Pollinators inaugural year. Last February we planned a national conference for October.  However, we quickly saw we had to adjust, as did our scheduled speakers. By June we had adapted our on-site conference to a virtual conference.  Speakers were pleased we were concerned for their health and safety. We featured our sponsors and vendors, and we served the education needs of beekeepers, farmers, member groups, and entrepreneurs at our Becoming 21st Century Leaders: Women in Beekeeping and Agriculture virtual conference.
We continue to provide online education with regionally and nationally recognized speakers in our Log-In to Learn Webinars.  We are presenting 44 topics during 2021 for beekeepers, association leaders, entrepreneurs, farmers, gardeners, and more. 
Similar to an on-site, in-person event, audiences want an engaging, knowledgeable speaker, with a different point of view. Eventually the local audience has heard every speaker in their club, and even many speakers at the state level. Good speakers excite an audience to think, laugh, and utilize skills or information learned during a presentation.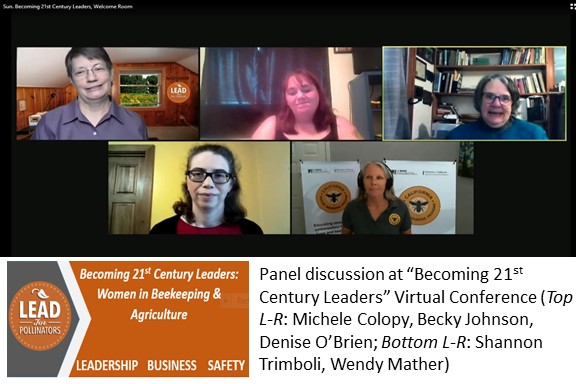 Too many groups have continually relied upon the "tried and true" speakers, but now audiences have access to national and international speakers online.  Due to the Covid health and safety restrictions, audiences will demand quality and diversity in their speakers going forward.  In the March 2021 issue of the American Bee Journal is an article discussing "The Value of A Good Event Speaker"  for their skill, knowledge, and "stage presence" online and onsite.
A good speaker is vital especially online, as the competition is now so vast.  Even when we return to on-site events, audiences, and speakers, will demand quality and diversity in topics, speakers, and cost. What the Covid health and safety restrictions have taught us in conference and meeting planning is quality speakers can be provided easily via the internet, without the speaker having to travel, and not incurring travel expenses.  As conference planning begins again, speakers will not want to travel, as they can readily provide a presentation via an internet connection.  Speakers can interact with an audience via the internet.  Even in large halls on-site, a moderator circulates to hear the questions from the audience.
Speakers will be relieved to not have to spend days travelling to and from an event.  Conferences will save money on travel costs for speakers. If your event has not paid speaker fees and travel costs, read "The Value of A Good Event Speaker" in the March 2021 American Bee Journal (and start paying speakers).
Vendors too will examine the past year to assess the economic value of attending conferences. The cost of paying staff, paying their travel costs, and time away from their business will be evaluated at a different level now. Vendors were able to support virtual conferences in 2020 and 2021, for less cost, and still increase their sales. Conference planners will have to examine the new costs of virtual vendors, and virtual exhibit halls. The new normal will have to offer both, and will have to be cost effective. Vendors who made money during 2020 without going to state, regional, and national conferences will re-examine their need to return to on-site events with all of the additional staff costs, plus the vendor fee. Having been a nonprofit vendor at state, regional, and national conferences, the vendor fees have been typically too high, unaware on any aspect of the return on investment (ROI) to the vendor. If a vendor's ROI from the costs of being a vendor onsite does not at least break-even, vendors may only want their presence in an ad, or only online.
The return to large events, conferences, fairs, and more will be slow for many of us. The full audience will not return for a while, and conference planners, and member education leaders will have to compromise with speakers, members, venues, and vendors. We will have to adapt like pollinators. To provide education we have to continue to be open to new ways to communicate, to share, and to learn from each other.
Learn to plan and implement hybrid conferences and meetings. For those members who can't attend a meeting due to weather, or illness, they could still attend online as long as we also make on-site meetings online as well. We can provide national and international speakers on-site, but online as well, saving travel costs and time, for the speaker, and the event planners.
Speakers will be asking for the online option. Members will expect online options. Audiences will appreciate a national or international speaker "brought in" to an event online. Audiences will appreciate the reduced travel costs through online participation in an event.
Vendors will want reasonable vendor fees reflecting a return on their investment to include options for only ads, only onsite, or only online, or all three.
Event planners will reduce their costs and yet increase the value of their event with diverse speakers on-site and online, including diversity of vendor support and interaction to meet the needs of this new speaker and audience experience.
It is a new event planning world. Embrace it and get planning hybrid events!